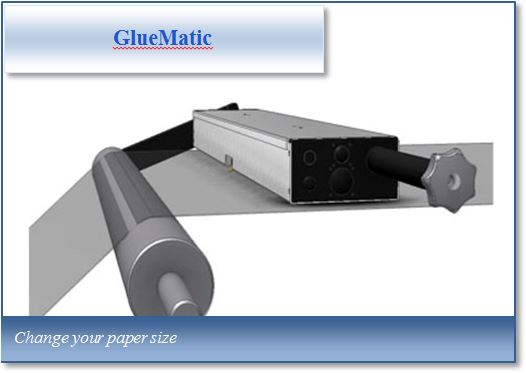 The interest for gluing has been long proven but, now more than ever, the printers wants to reduce the size of the newspaper to reach even A4.
GlueMatic's "inline" gluing gives the advantages of more alternatives for the production. It gives longer life to the product and attracts advertisers. It also increases the sence of a paper with quality and all this is increasing the total value of the product.
Specifications:
We have developed a high speed valve that can produce extremely short gluestrings. This prevents glue from leaving a mess in the folder. With GlueMatic you can perform gluing for a quarter page folder, skip, and a usual gluestring.
Advantages:
High precision valves that guarantee the "breaks" and glue strings at the exact same place in the paper, no matter which speed goes the press
Automatic cleaning of nozzles
Automatic glue pressure control
Daily automatic circulation of glue
Motorised lateral position of glue head
"Skip gluing" to produce a stitched tabloid inside a broadsheet paper