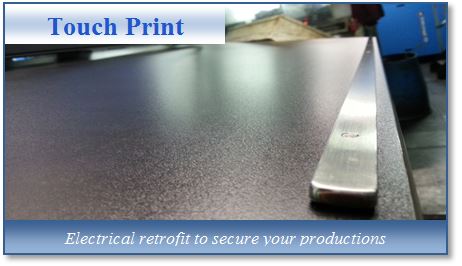 Idea:
Replacing the controls that are not  made anymore by the supplier (such as control for dampening, inking or registers). Improving the paper waste and the productivity by adding new options and new control desks.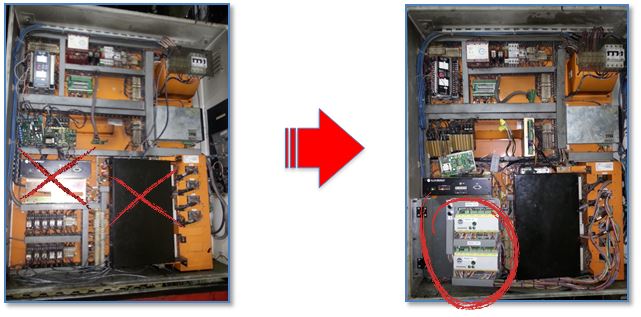 Advantages:
Developed, designed and built in Europe
Our PLC's have been in the printing industry for 10 years
No more downtime for the press
Increase of the benefits by reducing the paper waste
No production disturbance during installation
New control desk
User friendly interface
Cost efficient
We are proud to announce that this system was successfully installed and is used daily on a press printing more than 1,000,000 newspapers every day.

User interface:
Specifications:
Touch screen as large as the paper width together with a desk without push buttons
Works the same as the previous control desk but on a touch screen
Different types of view (cylinder, page broadsheet or tabloid)
Ink screw pre-setting, learning the press defaults day by day
Jobs are recorded as well as events of the productions
Curves settings, dampening parameters, and more…
Automatic pagination
Electrical drawings, user manual
Advantages:
Created by printers for printers
All functions are intuitive
No mistakes on page selection
Easy to customize
No push buttons to replace on the desk
Fast and effective user interface with multi-selection
Modern design
All languages available 
Reactive remote control of the press 
Installation
A European team makes the installation
In the beginning, our system is installed next to the existing one. During this time, it's possible to switch from the old system to the new system in a very short time. No risks are taken.
The press will make the productions as usual. No down time is required.
The customer team will be trained on the new system
Commercial details
In order to reduce the cost impact, it's possible to equip only a part of the machine and then you can use the old modules as spare parts for the rest of the press
It is possible to make a test on a tower or a level of tower. This way you can see the system running in production before buying it.
The warranty is 36 months
Spare parts are included in the package
System installed in Sing Tao newspaper in Hong Kong on U70 and U45, a visit is possible if you are interested.